Access to still images, Full Stills Set, 3-Angle Color, and Splash Images
$249/month
Powered by EVOX, a recognized leader in automotive imagery, FUEL offers easy monthly subscription access to a full spectrum of automotive images.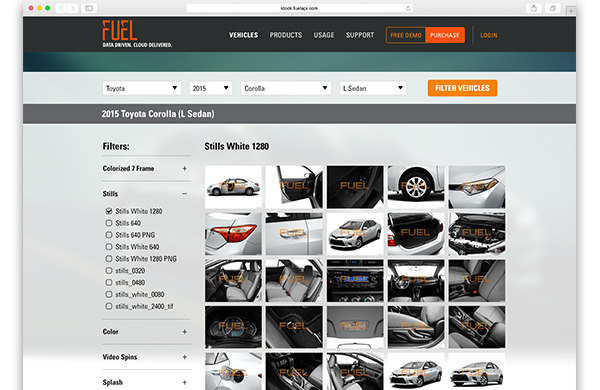 For $249/month, your subscription includes 200 downloads each month and access to the following:
• Full Still Set Library of Vehicle Interiors and Exteriors
• Front, Rear and Rear-3/4 View Images
• Variety of Vehicle Exterior Colors Available
• 360-Degree Exterior Spin Capabilities
• Extensive Selection of Hero Shots
FUEL's Stock Package Only $249/month
Sign Up
Simplified Search and Download
What's included:
Three-Angle Colorized Set Show Customers all-available manufacture colors with these colorized exterior shots, including front 3/4, rear 3/4, and profile angles.
Full Stills Sets Customers will revel in the ability to view detailed images from headlight to taillight with this package of 30-60 interior and exterior vehicle images.
Splash Images Enhance your car inventory with two Exterior Hero Images. One composited on a realistic background and one on an abstract background.
Sign up for FUEL's Stock Package today for only $249 per month.
Sign Up